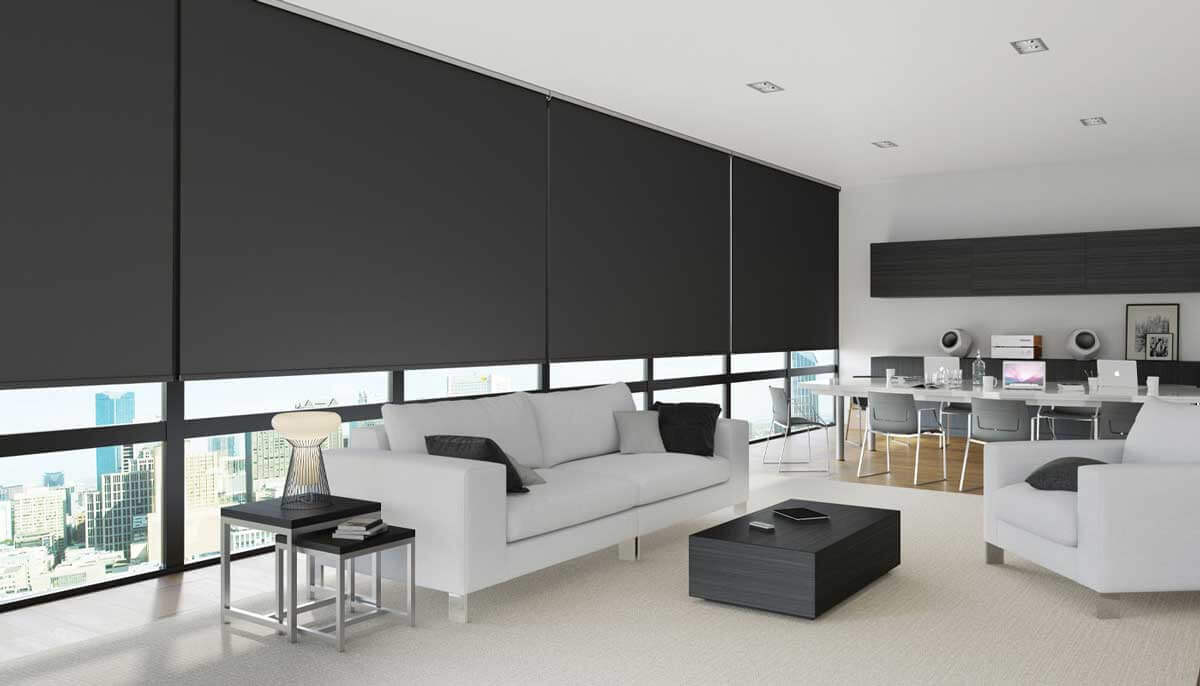 While they may not stand out as an obvious advantage for businesses at first, motorized blinds actually offer a wealth of benefits. By installing motorized blinds or shades, you can create a work environment that encourages greater productivity and actually increases your savings. 
Follow along to read more about some of the top benefits of using motorized blinds in your business.
Save Money in the Long Run
As well as assisting in reducing energy consumption, motorized blinds allow businesses to reduce cost savings over time.
Space heating and cooling accounted for more than 50% of the total energy used by Canadian businesses, according to a 2018 report by Natural Resources Canada. 
Companies that are interested in reducing their energy consumption should consider commercial motorized window shades or motorized blinds. For example, many businesses keep their air conditioning running throughout the day during the summertime. The right shades or blinds can reduce the heat that comes through the windows – this in turn cuts the time needed to keep air conditioning on.
Some motorized shades may feature a timer or can be paired with a sensor. With this convenience, you can decide the best times in which your shades should be open or closed. These options are especially useful if you're interested in reducing your energy consumption without having to manually adjust your shades.
Increase Employee Satisfaction & Productivity
There are a few factors that many people tend to consider important in their jobs, such as having access to benefits and flexible work hours.
Aside from these workplace benefits, there's another perk that employees prioritize – natural light. According to a study by View and Future Workplace, natural light and views of the outdoors are some of the most desirable workplace perks. 
Nearly 40% of those surveyed said their companies should provide access to views of the outdoors. On top of that, 33% of respondents said they'd like to personalize their overhead lighting, desk lighting, and the levels of natural light that comes in.
Motorized blinds solve this problem, as they allow your employees to control when to open and close the blinds. This option offers them more autonomy, while helping employees to feel more connected to the outdoors during their workday.
Create the Right Atmosphere Any Time You Want
Just like in a home, there are certain times when you need to control the amount of natural light that comes through in your workplace.
Whether it's for comfort or privacy, having quick and easy access to control how much natural light you need is essential.
Setting the right atmosphere and ambiance is important in certain businesses, such as restaurants. Lighting plays a big role in creating an environment that draws customers in. With commercial motorized window shades, they may be adjusted from a smartphone, tablet, or remote control.  
Another big benefit of these shades is that you can plan when and how they should open. Let's say you have a restaurant that gets tons of natural light. By scheduling your shades to lower when the sun is at its peak, your customers can continue to dine comfortably without glare or added heat. Your employees don't have to adjust anything themselves as the shades are timed to automatically lower on their own.
An Option That Satisfies Your Employees & Customers
Motorized blinds offer businesses benefits that can be seen immediately and overtime. 
As well as improving your bottom line, the convenience of motorized blinds keeps both your employees and customers happy. 
Have a look at our collection of motorized blinds to find the right fit for your business.