Elite Pro Shading Systems™ is the proud Canadian partner of Valley Forge Fabrics.
Valley Forge is one of the most recognized and specified brands to the hospitality industry, with a large selection of window treatment textiles, including roller shade fabrics, curtains and sheers.
Each collection is designed and engineered for
commercial grade projects in the hospitality industry.
Our Valley Forge fabric selection includes:
Finished Drapery
Pinch Pleat
A full, even look to drapery.
Best suited for blackout applications.
Provides superior light control for a balanced look with no light leakage.
Ripplefold
Offers an identical appearance from either side.
Offers a clean look and feel.
Procures a more contemporary/modern look.
Perfect for spaces when blackout is not required.
Roller Shades
Large selection with a variety of fabric options including: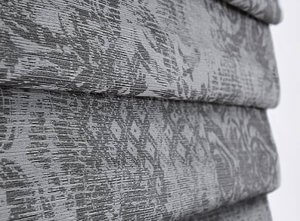 Roman Shades
Design gap between more traditional look of full drapery and ultra-modern aesthetic of roller shades.
Space savers while being visibly smooth.
Perfect for conditions where you cannot install full drapery.