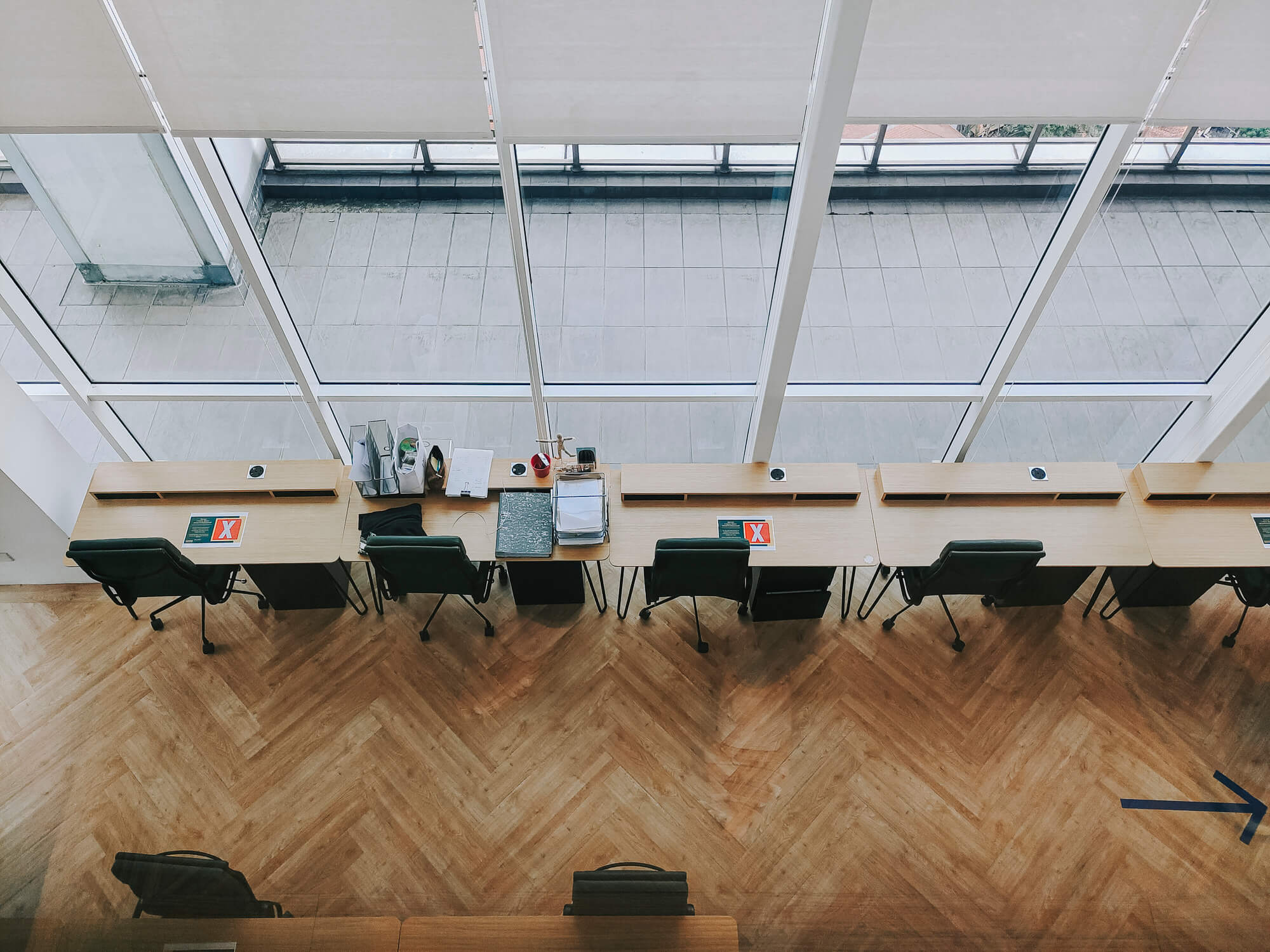 One of the most important decisions you can make for your commercial window coverings is deciding which window treatment to choose. While it may seem like a simple decision, there are many factors to consider before making a purchase.
While window treatments affect light control, they also impact energy costs, efficiency, and even productivity for employees. It's important to keep these things in mind while planning your space and before making any commitments. This article will explore the difference between blinds and shades, your different options for each, and their unique offerings.
What's the Difference?
First off, let's take a look at the differences between blinds and shades, and what they both can offer.
Blinds are made up of individual slats and can be raised and lowered, or the slats can be rotated to minimize light exposure. 
Shades are made from single panels of fabric, so they can be raised and lowered to adjust for lighting and privacy. 
Shades offer more privacy, they're more energy efficient, and they typically come in more styles. Blinds, on the other hand, can offer better light control and can be slightly easier to maintain and clean. Consider your commercial space and make a list of the top priorities for yourself, employees, or even customers. This will help you narrow down your choices.  
Sleek Shading
Roller shades are one of the most popular commercial window treatments and come in a wide variety of colours, fabrics, and styles. You can customize them with a range of top-treatment options including a variety of aluminum cassettes, fascias, or fabric valances to suit any decor style. This includes blackout and eco-friendly options. 
Shades are a great choice if you're looking for an upgrade as they're fantastic at regulating natural light and increasing the comfort of any space. You also have the option of adding motorized shade, a convenient and stunning addition. It's also perfect for individuals who may have certain accessibility requirements. Not only do motorized shades improve the safety and privacy of your business, they can also reduce energy costs.
Beautiful Blinds 
Adding blinds as a window treatment to your commercial space is a great way to upgrade its ambience. Whether you choose vertical blinds or horizontal blinds, they're an economical and classic feature. 
Studies show that windows and light play a significant role in employee productivity. By adding blinds to your space, people have control over light and heat filtering, making for happier employees. 
Blinds are available in a variety of colours and materials, such as aluminum, PVC, and wood. No matter what colour combinations and materials you choose, they can really enhance your space and make a statement. Another added benefit of blinds is that they can trick the eye and make a space appear larger, contributing to the overall atmosphere.
Make your Move
If you're looking to upgrade your space, but don't know where to start, adding blinds or shades to any room will be an instant improvement. Not only do they offer sun protection and heat control, they increase privacy, productivity, and can enhance the look of any space. 
We offer a wide variety of commercial blinds and shades that are perfect for your business. Browse our product section for more details and get inspired.